The Doctor



Appearances:

Known companions:
Not much is known about this unspecified incarnation of the Time Lord known as The Doctor.
Biography
Travels with Kate and Jason
The Doctor once took Kate to Attralax, where she was worshiped as a goddess with parties and feasts in her honour. This was until she was found to not actually be a god and as a result was nearly killed. (DW: "Doctor?!")
At some point during their travels Jason joined them and at some point Kate and Jason argued in a car park beside the TARDIS. (DW: "Doctor?!")
Travels with Jake and Laura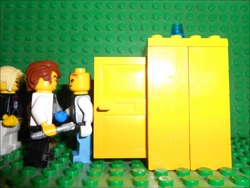 Whilst fighting an alien warrior, with Jake and Laura, the TARDIS materialized and out came one of The Doctor's previous incarnations. (DW: New LEGO Doctor Who Fan Fiction Tie-in)
Undated Events
Ad blocker interference detected!
Wikia is a free-to-use site that makes money from advertising. We have a modified experience for viewers using ad blockers

Wikia is not accessible if you've made further modifications. Remove the custom ad blocker rule(s) and the page will load as expected.