Storm Gunner Commander Sith



Main aliases:

Storm

First seen in:

Appearances:

Timeline:
Storm Gunner Commander Sith is Clone Gunner Commander Jedi's arch enemy, and an intergalactic villain. He led his own Squad, comprising of himself and Clairge Jogx.
Biography
Starting His Squadron
At some point he met Clairge Jogx and decided to team up with her, as they had the same intentions of taking out Clone Gunner Commander Jedi's Squadron to get certain members, Storm being after Clone Gunner Commander Jedi, whilst Clairge being after the Female Clone.
Kidnapping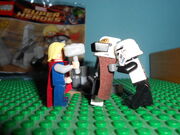 Whilst Clone Gunner Commander Jedi was with the Asgardian, Thor, Storm came and kidnapped Clone, leaving the Asgardian to wonder what he had in-fact just witnessed. He then returned and also kidnapped the Female Clone, who had come with Clone's Padawan, in search of Clone Gunner Commander Jedi. (CGCJ: Encounters with Thor)
Clone's Padawan, then found where Storm was keeping Clone and assisted in his escape. While dueling Clone through the time vortex, something struck the left wing of Clone's ship, knocking it off, and into Storm, sending him flying backwards into the object that struck the ship and a future Clone who was piloting it. This caused the object to catch fire and fall out of the vortex. (CGCJ: An unforgettable trip through the vortex)
As a result, he fell through into Morcia and crashed into the outskirts of Aldendan. Clone, just after himself falling into Morcia, referred to Storm as "an intergalactic villain". (AoA: The Visitor From Above) He later slipped into the city, and, somehow, with a band of Storm Troopers, tracked down and attacked Clone and a Knight. Whilst choking Clone, he was stabbed in the back by a golden knight, but teleported away in time to escape. (AoA: Ship Break in)
Later, after returning to the future, he ambushed Clone and his squadron. (CGCJ: Storm Gunner Commander Sith's Ambush)
Order 66
During the time of the execution of order 66, he sent Clairge Jogx after Clone. After she had found Clone and rendered him unconscious, he did the same to Clone's Padawan. (CGCJ: Order 66)
Source
Ad blocker interference detected!
Wikia is a free-to-use site that makes money from advertising. We have a modified experience for viewers using ad blockers

Wikia is not accessible if you've made further modifications. Remove the custom ad blocker rule(s) and the page will load as expected.